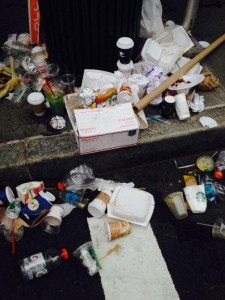 I have been fascinated by an on-going social media discussion related to the piles of litter left by the 400,000 people who attended the People's Climate March in New York last Sunday.
 Several photos available from a local NYC paper here.
A brief summary of what I've seen posted on a variety of social media outlets:
The sheer amount of litter on the streets is an embarrassment, and a symbol of the hypocrisy of these environmental activists.
There were no garbage cans on the route, a safety measure, and 400,000 people in addition to the usual New Yorkers on the street.
Photos of the garbage clearly contain products from the kinds of multi-national corporations the march was protesting against.
This event was a huge success, the litter is not the point.
Marches like this do not accomplish anything.
Marches like this are a crucial aspect of a participative democracy
I'd be interested to hear from Mason students who have participated in marches, and from those who intentionally do not.  What do marches accomplish?  If their point is largely to be symbolic of the people's will, what other symbols do their organizers need to attend to?  Is it possible for the organizers of an event like this to control the messages and symbols that emerge? What is your responsibility as a participant?