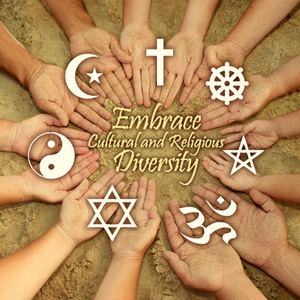 In my RA class we had to go to two cultural events that were OUT OF OUR COMFORT ZONE. When I speak going 'out of your comfort zone' then I mean it. Most people think that they are culturally tolerant, but they participate with different cultures that fits them or are similar and not too different for them to handle. However, my RA class encouraged us to find an organization or religious event that is the opposite of our culture or belief to participate in.
I chose to go to a club event for Young Life, which a Christian based youth group that would conflict with my Islamic faith. However, I LOVED IT! I am not going to lie that I didn't feel weird for a second, but I encourage everyone to choose an opposite religion to understand another mindset. My roommate Cameron was so encouraging and welcomed my with her friends at Young Life. You would have thought that we are opposite in our faith, but we actually found things we shared.  Most of the time one can find similarities. Now that I have participated in Young Life ONCE, I have gained great friends that still want to remain in contact, even though I remain Muslim.
This experience gave me a new perspective. I can remain strong in my faith, but can stand in a church knowing that people still welcome me. The world just needs to be more tolerant of each other because I just see people argue how right they are and how they must prevail. Why not just let everyone be? Let everyone have their religion, culture, language, sexual orientation! The world would be a better place where everyone would work towards being part of each others' cultures and lives rather than destroying it and distancing ourselves from one another.
Therefore I CHALLENGE you to do something WAY OUT OF YOUR COMFORT ZONE and to tell me your experience (:
Comment if you have ever gone out of your way to understand something super different.