Even though it rained and snowed during my week spent in North Philadelphia, to me it will always be sunny in Philadelphia.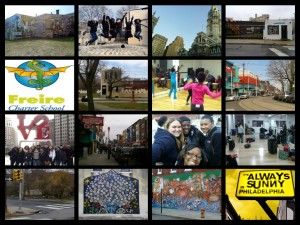 I never thought that in just a weeks time I could go from being just a random person who came to volunteer to feeling like part of a community. From everyone that worked at the school or writing lab I volunteered at,  to those who lived in the surrounding community, to my peers who were also on the trip, I always felt welcomed and like I belonged where I was. Participating in this alternative break allowed me to see advantages I have had in my life, especially in the field of education, that I might not have realized otherwise. It was amazing to see how tons of people from a single community were so dedicated to preserving the safety, happiness, and future oppurtunities of the areas youth that they devoted all of their time and effort into ensuring that they got these things.
By the end of the week I had kids asking me why I had to leave and if I would ever come back to visit. Seeing how just a short period of time can make such a huge impact was incredible. For all of the people that inspire kids on a daily basis just by being around, rather it be parents, teachers, volunteers, or anyone, you are a role model. You are the ones who are breaking the cycle of missed oppurtunites. You are the ones who lead others to a better life, you are the ones who inspire others to do what you are doing. Your impact on your community will be prevelant for generations to come.  One good deed can go a long way. In Philadelphia, I met dozens of people who inspired me and in return I will do my best to spread their good deeds. And that is why it will always be sunny in Philadelphia for me.